PGT Program Overview | Letter from the Directors | Actor Training Program | Classes | Summer Theatre
Directions to our Studios | Register

 

PGT PROGRAM OVERVIEW

It's great to discover that by studying acting with PGT, our young actors are learning to:

listen to each other; think and analyze; move and present themselves; share their ideas; and find importance in their work – and having a great time in the process!

What are the actor's tools? the mind, the body, the voice and the inner spirit. Each has an important contribution to make towards being present and presenting oneself. Actors can and do spend a lifetime learning from class study, from stage performance and from the world and people around them.

It's easy to get involved in all aspects of the performing arts – Just choose a PGT program:

Register now for Winter, Spring, and Summer 2006! Open classes and workshops this winter and spring - performance programs this Spring and Summer- Year round programs for children and teens in the performing arts start today!

Take a peek at the full size Winter 2006 Brochure for up to date information on this season's programs.

Classes open enrollment, ages 3-17

We offer a variety of classes for students of all ages and levels. Classes meet for one hour once a week.

Classes are by open enrollment for ages 17 and under. Trying new things, making choices, taking risks, honing skills and having fun all happen in a PGT class. From acting to dance, accents to masks, The Play Group's classes continually open new worlds of ideas to experienced and inexperienced young actors. Class offerings change each season. Please consult the list of classes for days and times of this season's classes.

Little Theatre: Pre-Theatre Classes for ages 3-4. Theatre Skills Classes for ages 5-6.
Core: Acting Technique, Improv, Musical Theatre and Dance Classes for ages 7-17. Learn the basics and master what you already know! No prerequisite.
Conservatory: Intermediate and advanced classes for ages 7-17. Prerequisite: One year of core classes, including one semester of Acting Technique OR the six week PGT Summer Theatre Program.

Actor Training by audition, ages 7-17

PGT's complete Actor Training Program includes a class and performance project. This program is by audition and involves a commitment of a great deal more time and work. Children and teens put their talents and abilities together in a collaborative work and enjoy participation in a successful production.

The Actor Training Program includes students of all levels of experience.

Backstage Crew open enrollment, ages 13+

Not an actor? But love the theater? Join the Crew! Get the same performance charge without performing. Our backstage crew makes the magic happen with set changes, props and costume management, video projections, sound effects and more. Crew can also help with set painting and construction before tech week begins. There's no fee for joining the PGT backstage crew. Students interested should call Jeff, 946-4433 x3.

Internships by interview, ages 14 +

PGT's internship program is a great opportunity for students interested in learning about the 'behind the scenes' work of the performing arts. Internships include Theatre Administration, Box Office Management, Stage Management and Assistant Direction. Hours will be determined according to job needs and your schedule. Students interested should call to arrange an interview with Steven, 946-4433 x1.
Actor Training Program | Classes | Back to top
LETTER FROM THE DIRECTORS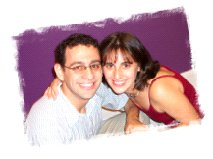 10 years... 83 productions... hundreds of performances... thousands of classes...
This year, as we celebrate our tenth year, we look back on how PGT has grown, thanks to the vision, hard work and talents of an incredible staff, an amazing volunteer community, a growing alumni organization and, of course, our wonderful young actors.
And, as we celebrate our tenth year, we look ahead... to the next ten years! And to all the ways, both new and old, that we will be able to bring the wonder of theatre into the lives of children and teenagers.
This year will be filled with opportunities to celebrate the first 10 years of PGT's history... especially at our 10 Year Anniversary Gala on January 8, 2005. We hope you will find time in the coming months to share with us your favorite PGT memories, and to help us plan for an exciting anniversary celebration!
Whether this is your first year or your tenth year with PGT... whether you join us for classes or a production... whether you are back stage or on stage –or even in the audience, we are looking forward to sharing the PGT magic with you!
Steven and Jill Abusch
Back to top
Need help with registration or choosing the program that's right for you? You can call 914-946-4433 with any questions. Check the Summer Theatre page for info on PGT's summer training program.